Meet Dr. Daniel P. Sitton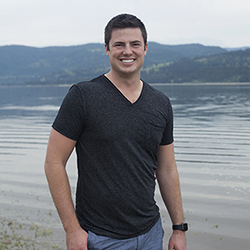 Dr. Sitton is coming to us from Midwestern University Dental School in Phoenix Arizona. He graduated from Midwestern and was awarded and recognized for his work in digital dentistry including implants, digital dentures, digital same-day crowns, and more.
In his free time, Dr. Sitton enjoys adventuring with his wife Shayna, and his Doberman Pinschers Rajah, Orca, and Nike. They recently bought a few chickens and are building their first chicken coop. Staying fit and healthy is important to them and you can usually find him out for a run, on a hike or in the gym. In his downtime you can usually find him working on a dental-related project with textbooks and notes sprawled across his desk and YouTube "how-to" videos pulled up on his computer.
Dr. Sitton is passionate about giving his patients the best care possible. This is accomplished through comfortable visits, comprehensive care, and state-of-the-art technology.